OEM Board SF6803
---

The GPS/GLONASS dual system satellite positioning navigation OEM board which replaced the JNS-100GG of Javad Company has passed appraisal.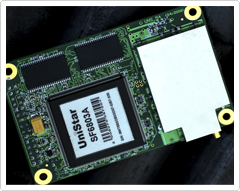 SF6803A is the high performance and high trend OEM board basedon the first GPS/GLONASS dual system correlator chips of 24 channels in China. SF6803A breaks down the GPS/GLONASS dual system OEM board monopolized by foreign products and breaks out the limit of the performance and parameter of the products.
SF6803A is the satellite positioning
navigation
single sheet receiver OEM board of 24-channel GPS/GLONASS dual system L1 frequency band C/A yard, it can receive the signals come from GPS and GLONASS at one time, solve and output the high-precision position, velocity and time parameters, has the powerful digital interface, support difference GPS/GLONASS. It can be used in all kinds of navigation receiver, include the ground and carry type (used in aviation, maritime and space launch vehicle and so on). The OEM board has strong ability of dealing with satellite signal, can provide high-precision time, position and speed parameters under high-noise and discipline electromagnetic interference, and maintains high-reliability and continuity of the navigation parameters.
Good Property
24 independent parallel channels. Each channel can receive the signal of GPS or GLONASS. SF6803A has three MODE:
MODE I: System default mode also is the dual system GPS navigation mode. It can choose to follow all the visible GLONASS satellite automatically, other channels follows the GPS satellite.
MODEⅡ: Single system GPS navigation mode. Only follow all the visible GLONASS satellite visible.
MODE Ⅲ: Single system GPS navigation mode. Only follow all the visible GPS satellite visible.
Choose two Satellites positioning navigation system automatically.
Defect inspection and exclusion (FDE) algorithm, detect and remove
the measurement error.
Carrier phase measurements to increase accuracy.
Detect automatically the integrity of signal received (RAIM).
Automatically receive and update the ephemeris of GPS and GLONASS, and store in Flash.
Basic Navigation parameter
Provide the navigation parameters under PZ-90, WGS-84 or SK-42 coordinates (longitude, latitude, altitude)
Three-dimensional in velocity vector (| W |, WN, WE, WH, or | V |,
VX, VY, VZ)
The current date and time, Greenwich UTC or UTC (SU)
DOP Value.
Pulse per second time scale
Original measurement data (raw data)
Auxiliary data of each satellite positioning navigation system (number and type of satellite, processing state of signal, S/N ratio, etc.)
Technical parameter
Physical parameter
Size: 87.6 x 57.2 x 15 mm
Weight: ≤ 100 g
External interface: 30 pin digital signal interface, MMCX antenna interface.
Electrical parameter
Electric Power: 6V-25V DC, backup battery can maintain data for 10
years.
Power: 15W (max)
Data Output
Interface: Dual High-Speed 115.2Kbps, RS232 standard serial port.
Update Rate: 1-10Hz
Precision of pulse per second: Superior to 40ns.
Agreement: NMEA0183 (It can be configured by the users' requirements)
Capture Time
Average TTFF: 30-60 seconds (Initial data)
Re-capture: < 1 second
Precision
Position: ≤ 15 Meter, RMS
Height: ≤ 20 Meters, RMS
Speed: ≤ 0.1 M/S, RMS
Time: UTC (Microsecond)
Trend Parameter
Speed: < 600 M/S
Height: < 20KM
Acceleration: 10g
Jerk: 10g/s
We can provide high dynamic version according to users' requirements.
Environment Parameter
Working Temperature: -45 to +80 °C
Storage Temperature: -55 to +85 °C
Mean Time Between Failures (MTBF): 20000 hours